The "Alef" corporation takes care of the next generation. The tours are conducted regularly at the premises of the corporation companies and their partners in order to help children to define their future professions, as well as to expand their horizons.
Children may visit the most advanced Ukrainian companies and plants using the robotized equipment, to see the production process with own eyes, and to ask any relevant questions to the professionals of the companies.
Fifth tour as part of the "ALEF Kids" project was conducted on October 16. This time children of the "Alef" corporation employees visited the company "Altek", the largest importer, producer and designer of the equipment for alternative energy in Ukraine!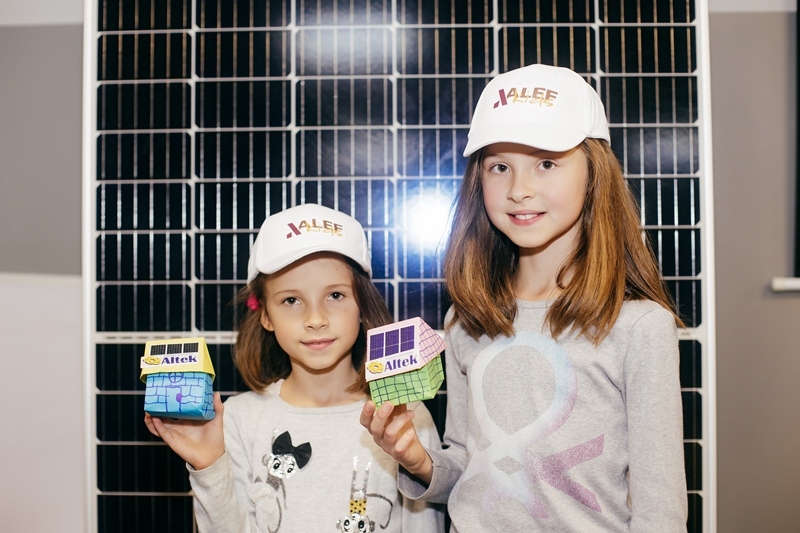 The comprehensive educational program was prepared for children: professionals of the company delivered the interesting lecture on the alternative energy sources, as well as introduced the various kind of equipment to children.
The visitors also were able to see own electrical power plant of the company and hear of the principles of its operation.
Moreover, children had the opportunity to try to "install" the solar panels by themselves – to the roofs of the paper houses from origami.
In addition, children had the opportunity to feel from experience the advantage and the efficiency of the electric power produced by solar; they played the game console operating on the solar panel.
It should be recalled that "ALEF Kids" is the professional orientation project the purpose of which is to expand the views of life of children, and to help them to understand the course according to which they want to develop. As a matter of fact, the variety of business-members of "Alef" corporation enables to introduce many areas of activities to children.
Earlier children already visited the plant manufacturing aerated concrete, "UDK", and the plant producing window and door furniture, "Axor", the companies "Agroaliance" and "The Dnipro Gardens" ("Sady Dnipra").